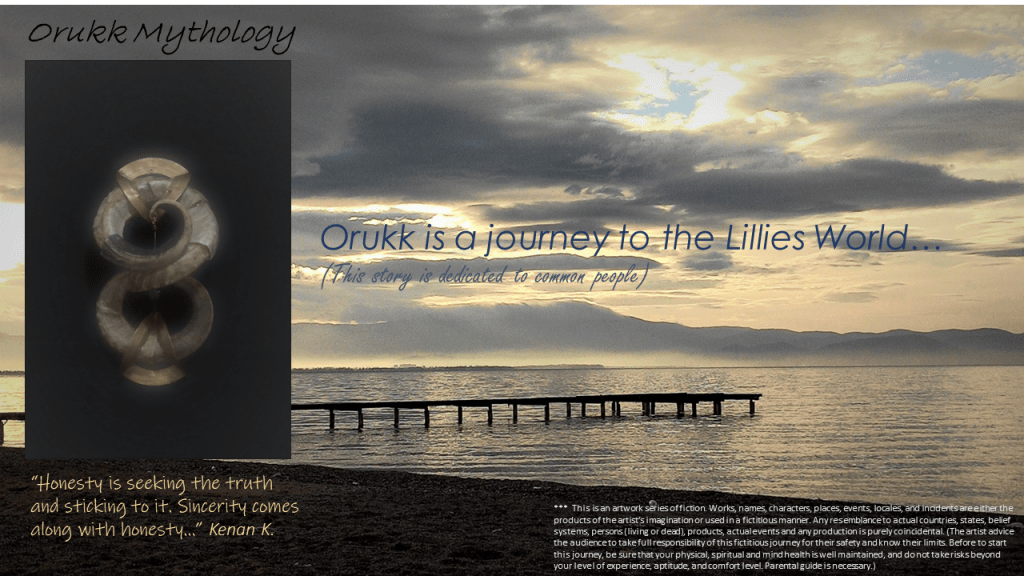 Edremit Körfezinde Gün Batımı
Merhabalar...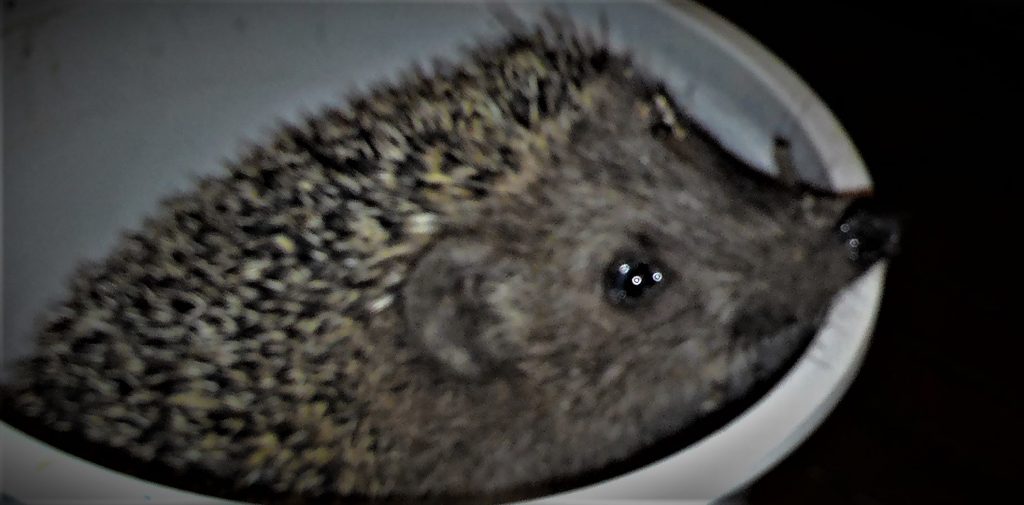 Orukk, barış ve refah içindeki Zambaklar Diyarına yalnız ve ürkek bir Kirpi'nin kılavuzluğunda yapılan hayali bir yolculuktur. Bu seyahat değişen hava koşullarında uzun bir mesafeyi çıplak ve emekleyerek gitmek gibidir. Bu emekleme (yürüyüş), insanların çoğunluğu için kaygılı, gergin, düzensiz ve giderek kötüleşen bir dünyada uzun süreli sorunlarla başa çıkmak için bir yol arayışıdır.
Bu arayış, yabancılaşma, tahribat, düzensizlik, ayrımcılık, bencillik, istismar/sömürü, kötü yönetim, şiddet ve kabalık gibi pek çok olumsuzluğa karşı daha önce de yerine göre yaşamından vazgeçerek mücadele veren, minnet duyulacak kaşif ve rehberlerin ayak izlerinin birbirine karıştığı ve kimi ayak izlerini rüzgarlarla gelen kumların kapattığı ve kapatmaya devam ettiği yollarda; veya bazen hiçbir izin olmadığı durumlarda uygun bir patika bulmaya çalışmak gibidir.

Hiçlikte Sonsuzluk
Ancak, bu çalışma, -moda tabirle- bir yaşam koçluğu veya hareket önerisi ya da hazır reçete listesi değildir. Tersine, bireylerin kendi öznel dünyalarında arzu eder ve buna değer görürlerse kabul edecekleri veya etmeyecekleri alçakgönüllü öneriler olarak görülmeleri daha uygun düşebilir.
Gereksinim halinde, doğru youlu bulmak için, "Dürüslük gerçeğin aranması ve ona sadık kalınmasıdır. Samimiyet dürüstlükle gelir..." (yazara aittir) ifadesi ahlaki bir pusula olabilir.
Doğa'nın kucağında, zihninizin ışığı ve yüreğinizin ateşinin tüm seyahatiniz boyunca sizi rahat ve sıcak tutacağı, iyiliklerle dolu, büyüleyici bir yolculuk geçirmenizi gönülden diliyorum... Kenan K.
Lütfen şimdi Giriş Seçimi bölümüne ilerleyin.
Orukk Evreninde kullanabileceğiniz iki giriş vardır.Birisi Göksel ( aydınlık) diğeri Yeraltı (karanlık) girişidir. Kapıya/kapılara gitiğinizde nelere gereksinimizin olduğunu göreceksiniz. Kapılardan giriş ve çıkış için belirli kurallar olmamakla beraber, arzunuza bağlı olarak iç iletişiminizi açmanız nazikçe önerilir.
(Lütfen aşağıda seçeceğiniz bağlantıya tıklayın)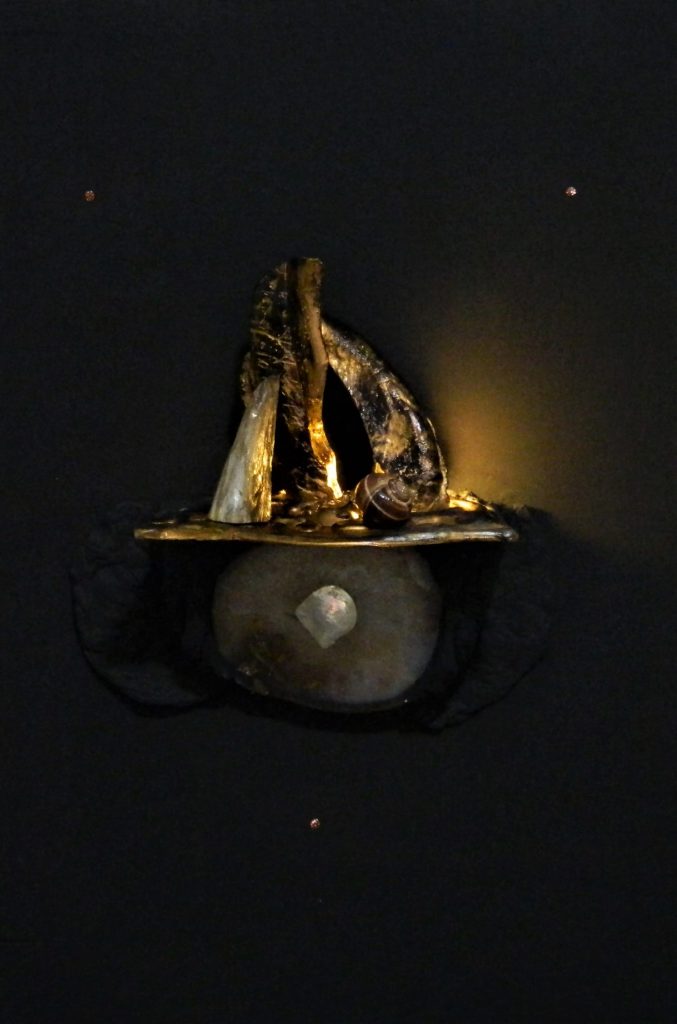 *** Bu hayali hikaye birtakım sanat çalışmalarından oluşmaktadır. Çalışmalar, isimler, karakterler, yerler, olaylar, mahaller ve bağlantılar ya sanatçının hayal dünyasında oluşan üretimlerdir veya bunlar hayali olarak kullanılmışlardır. Gerçek Ülkeler, devletler, inanç sistemleri, hayatta olan olmayan kişiler, üretimler gerçek olaylar, oyunlar ve medya üretimleriyle ilgili benzerlikler tümüyle rastlantısaldır. Sanatçı, bu hayali seyahatin izlemci ve katılımcılarına kendi limitlerini bilmeleri ve buna göre tüm sorumluluklarını kendilerinin almasını önerir. Bu hayali seyahate başlamadan önce, akıl, beden ve ruhsal sağlığınızdan emin olunuz ve kendi deneyim, tutum ve rahatlık seviyenizi zorlayacak yaklaşımlardan lütfen uzak durunuz. Çocuklar ve gençler için Aile rehberliği gereklidir.
Bu hikayenin, diğer hikayelerle, hiçbir -ist, izm, -loji, -lik ve (tüm saygıyla) inanç sistemleriyle, hiçbir kurum, kuruluş ya da üretimle ilgisi, farklı algı yaratma gibi bir çabası yoktur. Objektiflik amacıyla, tüm bunlara eşit mesafede durmaya gayret edilecektir.
Akıl ve bilim temel yol göstericiler olarak kabul edilmekle beraber, bunların yeterli olmadığı veya sınırlı kaldığı durumlarda sezgi ve kişisel deneyimlere başvurulması gerekli olabilir. Çalışmanın tamamı her türlü eleştiriye açıktır.
Bunu lütfen okuyun! disclaimer carefully before using the website orukk.com operated by Kenan K. The content displayed on the website is the intellectual property of Kenan K. You may not reuse, republish, or reprint such content without his written consent. This approach does not preclude media/social media share or using a piece of info by addressing the source (fair use). All information posted is merely for informational purposes, and it is not a substitute for professional advice. Should you decide to act upon any information on this website, you do so at your own risk.
Privacy Policy: We collect your public profile data only from your consent that you grant before initiating Social Login, from the social network used to login at our website. This data includes your first name, last name, email address, link to your social media profile, unique identifier, link to social profile avatar. This data is used to create your user profile on our website. You can revoke this consent at any time from your profile page on our website or by sending us an email.
Note: Please do not make comments on this page! The theme structure does not accept this.
contact: absart@outlook.com